This weeks Sunday Social ride was out to the Old Vicarage in Naseby to celebrate the birthdays of Andy Parker and Will Lawton, lots of cake! Here's how the group rides went…
Group 1 by Mike Castelete

A chilly battle to Naseby
A cool eight degrees and a moderate breeze greeted us all at the Sainsbury's meeting point.
Most of us had dressed adequately to take on the autumnal conditions, except Ondrej Humplik who rocked up in his summer shorts, making a point to us Northern European's that we're not made of the hard stuff. Little did we know that Ondrej's pre-ride breakfast consisted of porridge doused with a few good measures of his special Czech moonshine to keep his cockles warm.
With our group first to set off, our little band of brothers and sister consisted of David Robinson, Andréa Woolcott, Darren Gillings, Ondrej Humplik and myself, Mike Castelete.
Steady pace
We headed out across the Welland Valley at a moderate pace with Ondrej and David pulling strong. But it was clear early on that Darren and Andrea weren't their usual selves and were battling the ramps, suffering heavily from a hard Trainer Road session from the previous day. Even Darren's well-stocked pockets of gels and treats weren't going to pull their legs out the lactic lake they found themselves in.
David, Ondrej and myself kept a steady pace going that kept us all together as we took in the country roads west of Market Harborough. About 30 miles in, the effects of Ondrej's early morning moonshine intake clearly began wearing off, and he was rueing his decision on the summer attire. The rest of us rode on with smug poker faces simulating that we were all fine and toasty.
Wonderful ladies at the Old Vicarage
David had a heads up that the Naseby Vicarage Milk Monitor was still on furlough and decided not to stop for his usual glass of the white stuff. The rest of us however, waded in with copious amounts of coffee, cream, cakes and scones that the wonderful ladies provided for us.
Iain Callaghan was already there, who'd made his own route to the coffee stop. Rumours had it that there was a half bus load of passengers parked in a nearby side street who were under the impression their driver was busy fixing a puncture. Little did they know he was feet up, enjoying a cream tea with us. They'd be waiting a long while! (Only kidding Iain).
With the ongoing 'Corony safety rules' in force we sat outside, well spaced trying to get any sunshine that was on offer to keep us warm. But after 20 mins the autumn chill took hold and we decided to head back on the road.
Big shout out to the ladies at The Vicarage, Naseby who always go above and beyond to welcome us KCCers with great smiles, coffee and cakes. Today didn't disappoint and we look forward to seeing them in the new year.
Homeward
The four remaining in our group decided that the shortest route back to Kettering and Corby was in order, which took us past the wind-farmed fields of Kelmarsh, with wide-open spaces and crosswinds that made it feel like a good old Belgian Classic. Parting with Ondrej at Harrington, with Andréa, Darren and myself cruising back to Corby to enjoy an afternoon of warmth, cosiness, red wine and The Giro D'Italia.
Great video of group 1 by Darren Gillings
Group 2 by Andy Parker
A Sunny Start at Sainsbury's
As I arrived late at Sainsbury's (even after Roger O'clock!), I was delighted to see a good turn out in orange and black.  Quickly assembled into two groups of 6 then 5, eleven people set off into a gentle but chilly north easterly breeze along the Rocky Rockingham Road.
The group consisted of Gary Bridger, Ian Bird, Roger Reed, Will Lawton, Roy Crombie and Me (Andy Parker). Unfortunately, Gary Bridger had problems with cleats and decided to turn back five miles into the ride – we hope to see you next week Gary.  
Drafting a tractor 
Ian Bird had chosen a lovely route through Stoke Albany and Ashley then through Welham and across the north side of the Welland Valley to Kibworth.  Our group had a tractor with a large load of soil pacing us for a few miles across the valley – good when it was uphill into the breeze but a bit of a brake on the speed downhill – plenty of time for recovery.
Riders getting stronger
It was great to see Will again – with no time pressure as this was a Big Birthday Week.  A bit of fine-tuning and a few replacement parts courtesy of George Halls in Harborough, plus getting used to riding with a group, saw him taking some sizable turns at the front and he's definitely getting stronger.
It was also a pleasure to ride with Roy Crombie again and to see his strength building back really well after a second op on his hip. Chapeau!
The Spire in Sight
The route was planned well with the breeze at our backs as we turned South.
With Naseby's church spire in sight and, more importantly, the tea and cakes selection at the Old Vicarage beckoning, there was a strong effort up from the A5199 north of Welford to Naseby, over-taking a few other cyclists as the sweet smell of scones jam and cream pulled me forward and made me push down harder on the pedals.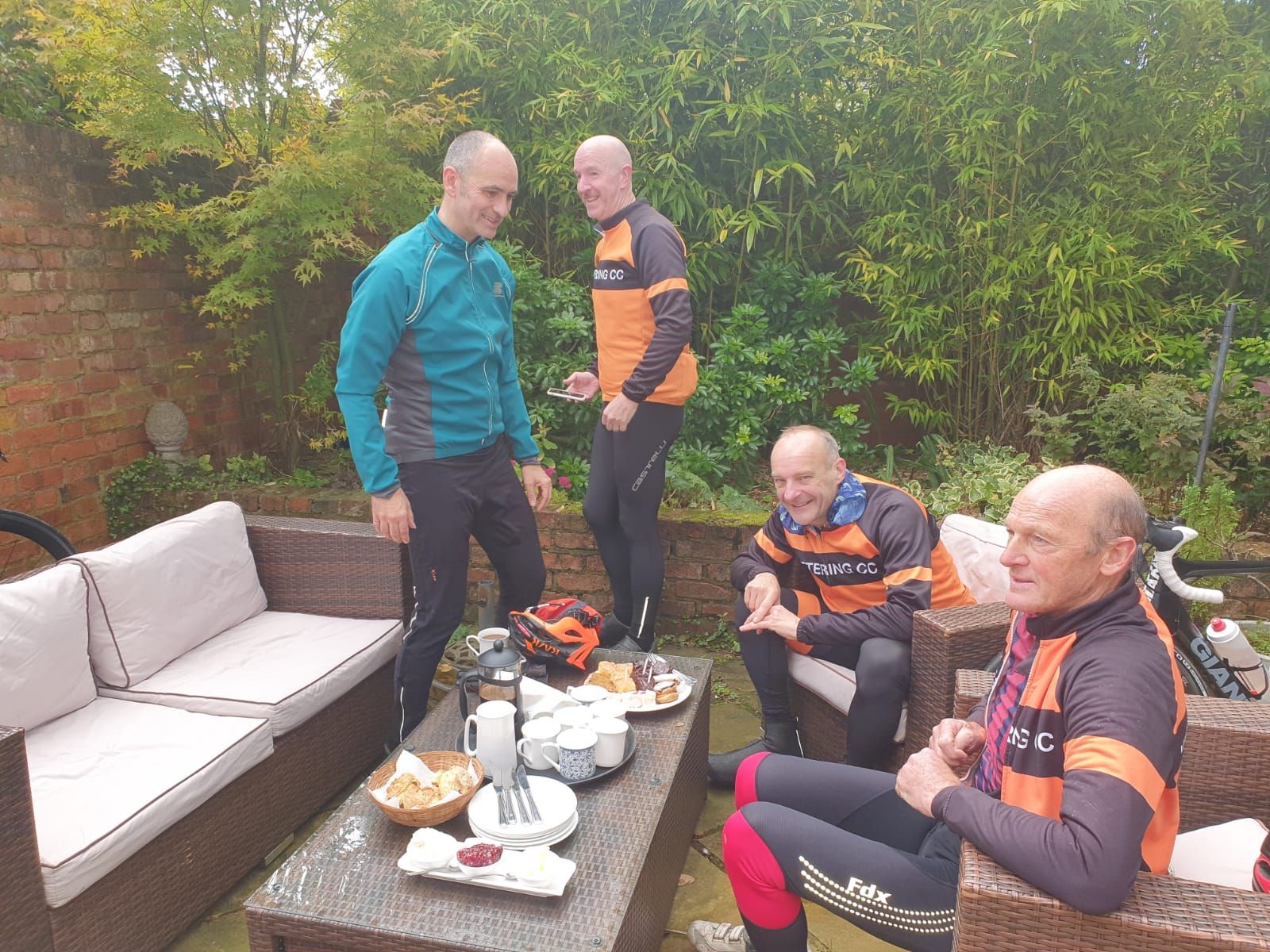 Notice a common theme? Will Lawton, Roger Reed, Andy Parker & Roy Crombie
The Old Vicarage
Hip operations seem to be all the rage.  About to close for the owner to have her hip replaced,  Ian Bird had secured one last morning stopover for us.
The quick group (Andrea, Darren, Mike, Ondrej, joined by Iain Callaghan) had their place in the sun in the garden and group two soon had plates of cakes and scones placed in front of them – mine with candles in them to commemorate mine (& Will's) birthday – nice touch guys.
We were all then joined by some late arrivals:  Sue Rust emerged in KCC pink, topped with a head scarf that made her look like she was coming in from the arctic having done the route solo, and Steve Webster, having driven to the venue with his family for tea & cakes after football training to be followed by a ride with his boys.
Home run
As usual as we headed home, via Kelmarsh and Harrington and through Broughton, dropping Sue off and then continued back via Pytchley, we dropped off riders to take the short cuts to their houses.
Despite Ian Bird's wearing an infamous KCC Gilet, I am glad to say there were no risky incidents!
 A thoroughly lovely ride – thanks everyone!
Photos courtesy of Iain Callaghan, Ian Bird and Darren Gillings, thank you all.