by Bernard Smith
Reginald Hargreaves Harris, (1920-1992), Track Sprint cyclist, was my boyhood hero. He was the Chris Hoy of the 1940's – 1950's. British Track Cycling was in the doldrums, not having had an International Sprinter since Bill Bailey, who won World Amateur Sprint Champion in 1909 – 1911 and 1913, and won Bronze as a professional in 1928.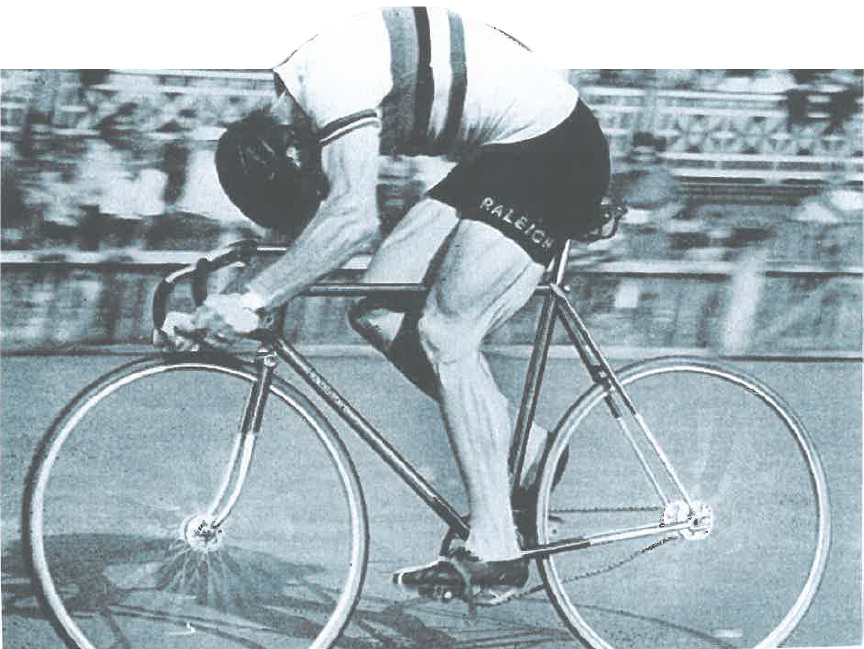 Selection stalled by the war
Reg Harris was selected to ride in the World Amateur Championships in Italy in 1939, but the team was recalled from Italy as war broke out. He served in the Tank Regiment in North Africa but was discharged on medical grounds suffering severe burns in a tank battle.
Recovery to "kick"

Once home and recovered he resumed strict training back to full fitness. He developed a fine physique and was renowned for his devastating "kick" in the finishing straight.
He won the World Amateur Sprint Championship in 1947 and was a virtual cert for a gold medal in the 1948 Olympics in London.
However, he was involved in a car accident prior to the Olympics, so missed vital training the weeks before the event.
He eventually took silver, beaten by Italian Ghella. Also a silver medal in the Tandem Sprint, partnered by Alan Bannister. The Olympics in those days were supposedly purely for amateurs.
Turned professional
Reg turned professional, riding for Raleigh, so becoming a household name, with adverts proclaiming, "Reg ride a Raleigh", along with many other sponsors like Dunlop Tyres, Elliman's Athletic Rub, Brooks Saddles, and Reg Harris shoes, made locally, in Rushden I think. His Raleigh Track bike was finished in beautiful polychromatic ruby red. On his machine he won the Professional Sprint Championship in 1949, 50, 51 and 1954.
My first Raleigh
It was in the late 1940's that I became interested in Reg Harris. I drooled over the Raleigh catalogue, with top model "Raleigh Record Ace" adverted at £39.19s11d. finished in gold, it was way out of my league. However, I cashed in my Nations Savings Certificates I had built up at school at 6d w week, Dad supplied the rest. We went to Rouse's garage in Wellington Street and bought a Raleigh Clubman for £24.19s.11d. It was finished in flamboyant electric blue with chrome ends.
Fuelling my passion
I was in my element. On this machine, at 13 years old, my mate Terry Green and I cycled to Skegness and back in a day. So beginning my love of distance cycling, destroying any hopes of becoming a sprint cyclist!
Following Reg
I followed Reg's career avidly. Coverage of cycling in the National Press was minimal, I was left for 'Cycling' on Thursday for results. When the World Championships were on I was glued to the radio for the late evening news which had a short sports slot. We only had a Paul Taylor Radio Rental speaker, a sort of piped radio service with a three-way switch giving you BBC Home Service, Light Programme, and Third Programme. All for 1/6d a week! (7 1/2p)
Ruby Red
I had an accident on my Clubman, bending the forks. I had it repaired at Garleys Cycle Shop in Kettering, and had it re-sprayed in Ruby Red (naturally). I fitted a saddle support from the saddle peak to the top-tube (just like Reg) bought some Reg Harris shoes. I was a poser even then!
More than a read
I bought books on Reg, including one showing off his fine physique doing isometric exercises with a pair of handlebars. It stated that the circumference of his thighs was 22 inches, which at that time, as a scrawny teenager was near enough my waist size!
Reg missed winning the World Title in 1952/3, as the U.C.I. changed the format to 3-up sprinting, making it harder for a lone Englishman to win against all the continentals. They reverted to 2-up format in 1954, and Reg won his final World Title.
Great memories
During the height of his career Reg lived the high life, with fine dining, fast cars and mixing with the elite of society. Lyn and I went to Herne Hill to see Reg in his farewell appearance, with a series of match races against his old friend and rival Dutchman Arie van Vliet. Although obviously an exhibition event, it was great to see the two master sprinters showing their skills. To see the pair sprinting the last 200mts shoulder to shoulder, with Reg just getting the verdict in the final kick for the line. "Great memories" adds Bernard.
An amazing comeback
In his retirement from racing he had several poor business ventures, notably a brand of Reg Harris bicycles. Although they are collectors' items today.
He carried on cycling, and in 1974 made a come-back winning the National Sprint Title at the age of 54 at the Saffron Lane Stadium at Leicester, beating Trevor Bull.
The contribution Reg made to cycling is portrayed in the fine memorial to Reg in the Manchester Velodrome.
Warts and all
I have just read a book by Robert Dineen entitled, "The Rise and Fall of Reg Harris". A warts and all account of his life revealing much of the darker side to his life, his (at times) arrogance, his love of high living, fast cars and his womanising, and his poor business ventures.
I prefer to remember Reg as the man who put Great Britain on the World stage of track sprinting, lifting this countries spirits after the dark war years.
"Reg Harris was my Hero" Bernard Smith
Further reading: https://en.wikipedia.org/wiki/Reg_Harris