Racing against the clock
At a time trial race as a cyclist you race alone, against the clock. Riders reduce their times and gain valuable seconds by improving their riding position, skin suits and aero helmets all achieving aero efficiencies.
Along with the weather, each race and course lets riders target personal bests, you do not have to be super fit to enjoy TTs, they attract riders of all ages and abilities with an array of cycle setups… from road and road bikes with TT bars, TT bikes and even moutain bikes! It doesn't matter how quick or slow you are, you set a time and that's your challenge… to beat it and improve it throughout the season.
At KCC we raced distances to suit all goals from 3.8m sprints, 9.4m, 10m, 13.2m, 18.8, 25m and 50m courses. This year we have added in what we believe is going to produce some really fast times, the Earls Barton A45 10m, 25m and 50m. Make a note in your diary of the dates and we'll see you there.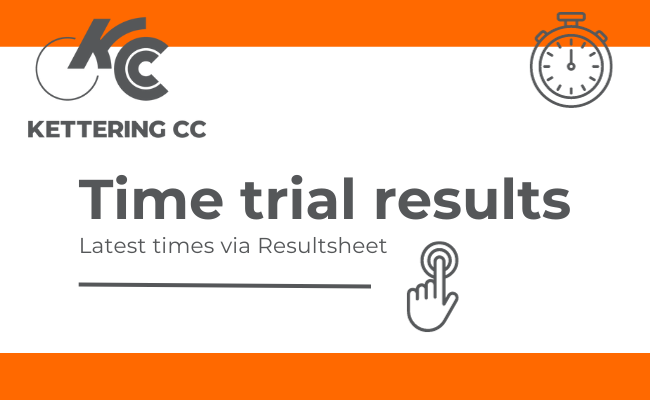 Race a TT to set yourself a challenge
What to expect at a TT event
A guide to time trials with KCC
If you are wishing to attend one of our time trials please use this guide:
Getting to the signon location, what you need and when to arrive
If this is your first time trial, here are some points for you to consider.
You must have a hard helmet and a flashing front and rear light to compete in KCC organised time trials.
You should aim to arrive at least 45 mins before the first rider is due to be off in order to sign on and allow the timekeeper to reach the start.
When you sign on, we require your name, address, age, club, what bike setup you are riding, emergency contact number and your signature. Don't forget to pick up your race number.
Your bike setup is either RB (road bike- no aero advantages) or TT (time trial- this includes clip on aero bars, aero helmets, wheels with sections deeper than 50mm).
You may ride twice as a "come and try" rider and then you are required to join a club that is affiliated to Cycling Time Trials. KCC members pay £3 per ride. All others pay £5 per ride. KCC are an affiliated club. Adult membership is £15 per annum, family memberships are available too.
What to expect at the start and the format of the race starts
Riders are sent off at one minute intervals. If the time trial starts at 7pm, the first rider is away at 7.01pm, and so on. If you are, for example, number 17, you will start time is 7.17pm.
As your start time approaches, line yourself up in order with the other riders. As the rider in front of you goes off, move forward. When you are ready, you'll be supported in position so you can clip in. You will have a countdown 30, 15, 10, 5, 4, 3, 2, 1, Go.
There are marshals at junctions that require them, with signs to alert other vehicles that a cycle event is happening.
However, you should acquaint yourself with the course and the marshal is NOT there to stop the traffic for you. It is up to you to follow the rules of the road and stay safe.
What do you do if you are caught up or catch someone up
If you catch up to another rider, or are caught by one, you should not attempt to follow that rider closely (draughting) in order to gain an advantage.
If you are deemed to be draughting you could be disqualified from the event and not given a time.
At the finish, what happens next?
Wear your number fairly low down on your back so the timekeeper can see it as you cross the line. Also calling out your number as you finish is helpful.
When you do complete your ride, do not stop within 50metres of the finish line as other riders may be finishing behind you at speed.
Please don't try to talk to the timekeeper at the finish to find out what time you have done as his or her attention will be on other riders finishing. Sometimes a number cross the line very close together.
The completed time sheet will be available back at the signon location as soon as all riders have finished and the timekeepers have calculated the times.
You'll have the opportunity to chat and mingle with like minded racing and cycling enthusiasts, so don't rush off.
Don't forget to return your race number!
Remember to hand your race number back in at the end of the race.

Spectators
Come and support your club riders and experience the thrills of TTs. Help out if you can by signing up to marshal and have a great view of the race.
Race reports
Did you race? Let us know how you did, the thrills of the race night and any PBs. You might get in the local paper and we'd like to include you in our race report.
Capture the momentDid you take any photos on the race night? If so can we use them in our race report.
Please send your review and photos to:
Andy King: KCC.ttsec@gmail.com
Club events need your support
Without marshals and volunteers events like our TTs would not take place as they rely on our members and all adult club members (18+) are asked to help. If you do not race, please support KCC racing events, if you can, please do at least 1 per year. If you race, in any of our disciplines, TT, road, CX, MTB, then you should volunteer as many times as you can, please do at a minimum of 3 a year.
The 2022 TT rota is online at:
When you go to Signup Genius you can self select the event (s) and date (s). Please note:
1. The number of marshals required is indicated in brackets at the end of the event title
2. The time, is the time for you to arrive and not the start of the event.
3. If you have not marshalled before, please let us know it's your first time.
4. If your plans change and you cannot attend, notify the rota and also call and email Jon. In the event that a replacement cannot be found, it may be necessary to cancel the event.
If you have any questions, then contact Andy.
Andy King
e: kcc.tts
ec@gmail.com
For safety and event signs, time keeping watches and race numbers