A personal message from the Chairman, Andy King…

Next year I plan to be riding in more events that will see me driving to different parts of the country to compete: on the track, time trials, road races and cyclocross. I've been waiting until now to buy a Velosock to protect the inside of my car and house from my potentially grubby bikes. Also I want to protect my bikes from bumps, scratches and dust whilst they are in my garage both through the winter and in the summer. And if it's wrapped up in my car then people can't see what exactly it is so there's a little bit of added peace of mind!
Anyway, earlier this week I placed an order for an 'Indoor Velosock' (list price €44.99 + postage) but then had a bit of a lightbulb moment when I saw that they have a custom design service and wondered whether we could get KCC ones designed and printed. If we could, what sort of price would they be and would anybody else be interested.
Indoor Velosock
To cut a long story short, Sue and I (well mainly Sue 😀) have come up with the (featured above) design for the 'Indoor Velosock' and when we looked at the pricing it works out cheaper in total to buy 10 than it would to get the smaller number that Sue and I would take! So I thought that I would see how many other KCC Members might be interested at their cost price of €28.50 each*.
Timescales
The team at Velosock have been really helpful and they will be able to turn around an order "within 2 weeks" so, if you are interested in having one ready for the first CX races or perhaps getting one as a Christmas present for somebody, then please use the online order form (see button below) to let me know by the evening of Monday 30th November and I'll place the order early next week.
Protect your TT or Triathlon bike
In the Velosock range they also have a full cover for different bikes and Sue has come up with this design for a TT Bike cover. In addition to all of the benefits of the 'Indoor Sock' this cover is water resistant so it offers up more protection for your bike if it's being transported on a car's rear mounted bike rack.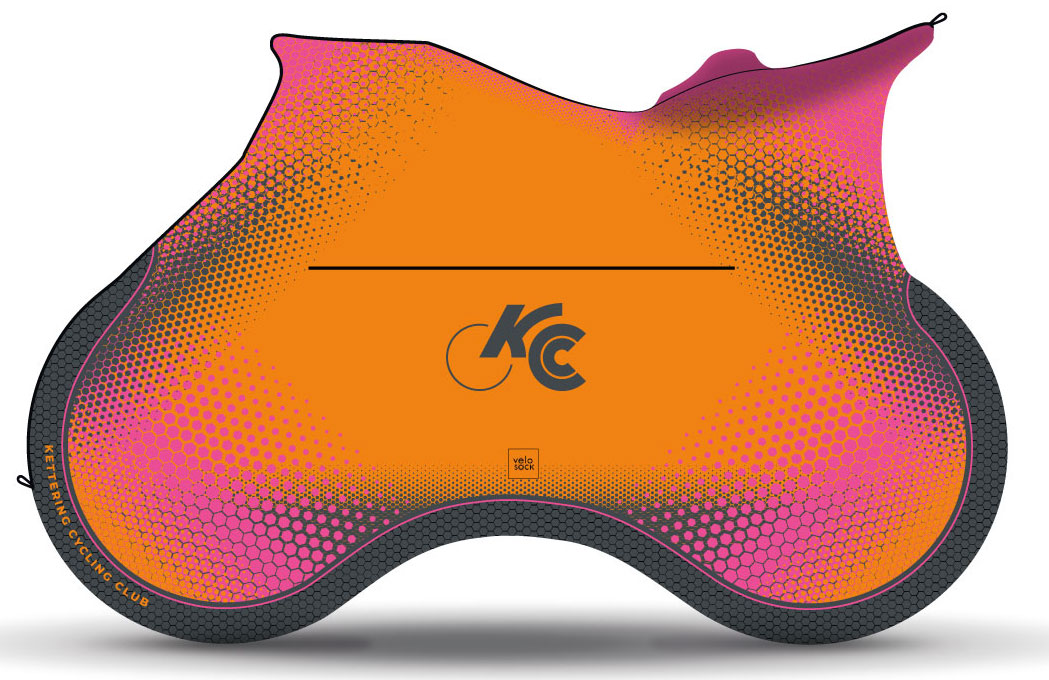 The pricing of these is higher but if we can get an order together for 6 of these then the cost would be €92 each* as opposed to the standard list price of €134.99. Sue and I are interested in these too so we'd only need another 4 people to want one and we can get an order placed at these costs. Again, if you are interested use the order form to let me know and I'll place an order once we reach 6.
Fantastic offer
The discounted pricing is really great and the designs are pretty cool too. So please use the order form to place an order with me, and as soon as we reach the minimum orders, i can get the order in and they can achieve delivery as stated above "within 2 weeks" hence the urgency in asking you to consider and let me know by Monday 30th November, to secure a pre Christmas delivery and allowing them to be Christmas presents.
If you want to know more about Velosock and maybe look at some of their videos that show them being used then visit their website, listed below with a very useful video.
Similarly if you have any questions for me then please fire them over to me and I'll get back to you as quickly as I can, you can email me here.

I look forward to hearing from you.
Andy King
*Please note the prices are exclusive of vat and subject to change, please refer to the order form for the current pricing.
Please note the prices are quoted in Euros €, and the actual Sterling GB £'s will be at the prevailing rate of the order. If you wish to explore the products, please visit their website: https://velosock.com
To watch a video on how the sock is wrapped on your bike: https://youtu.be/LYJODStRhk8