KCC 100 SPORTIFF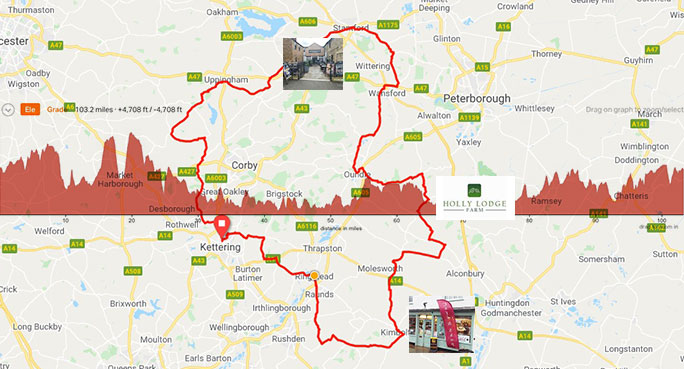 103.2 mile clockwise KCC 6 Counties

Clockwise loop north to Uppingham – Stamford – south via Oundle to Kimbolton – turn and head north via Ringstead – before back to Kettering.
4,708ft of climbing
This ride was planned as the "KCC 100 SPORTIFF 2021" and is a loop that can be shorted at Oundle if the weather is bad or if riders only wish to do 55-60 miles.
There are three planned feed stops at Cafes/Shops depending on the covid restrictions and opening times (as this route was planned weeks after lockdown 3).
Starting at Sainsbury's Kettering
We will meet as usual for a club ride, we will split into groups due to covid and rider ability and do so that we can keep a no drop policy, please download the route if you are joining us.
Leave Kettering out north, via proLogics, Glendon Road, towards Rushton and continue via Pipewell, East Carlton, Bringhurst, Stockerston to Uppingham. Looping and heading east via Seaton, Morcott, South Luffenham and onto Ketton. Continuing on to Tinwell before getting to Stamford.
First planned stop at The Stamford Post (35 miles)
From here we head south east via Pilsgate, Barrack, Wansford, Yarwell, Nassington and onto Fotheringhay, hading to Oundle.
On exiting Oundle around 55 miles, continue our east, via Polebrook to Lutton before heading south to Great Gidding Chapel End and Little Gidding, past Hamerton Zoo and Hamerton village
Second planned stop at Holly Lodge farm (66 miles)
Continue onto Buckworth, before turning back west to Old Weston and continuing southward to Catworth and Kimbolton.
Third stop Olivers Café at Kimbolton, the 2019 cyclists of the year café.
Looping round now taking in Pertenhall, Swineshead, Melchbourne and Yelder, before getting to Newton Bromswold and changing direction to head north to Caldecott, Chelveston, and Raunds
Optional stop at Raunds local shop if you need to get on extra carbs.
Or, continue onto Ringstead, before heading west to Great Addington, over the A14 to Cranford St Andrew and making it to the cross roads at Grafton Underwood, with only a few miles to go back to Kettering, we continue and head to Warkton and then back through the town to the bus stop.
Profile:

Please take enough fluid and gels/bars and the weather can change, so be prepared.