33 mile south with a clockwise loop from Sywell to Grendon to Sywell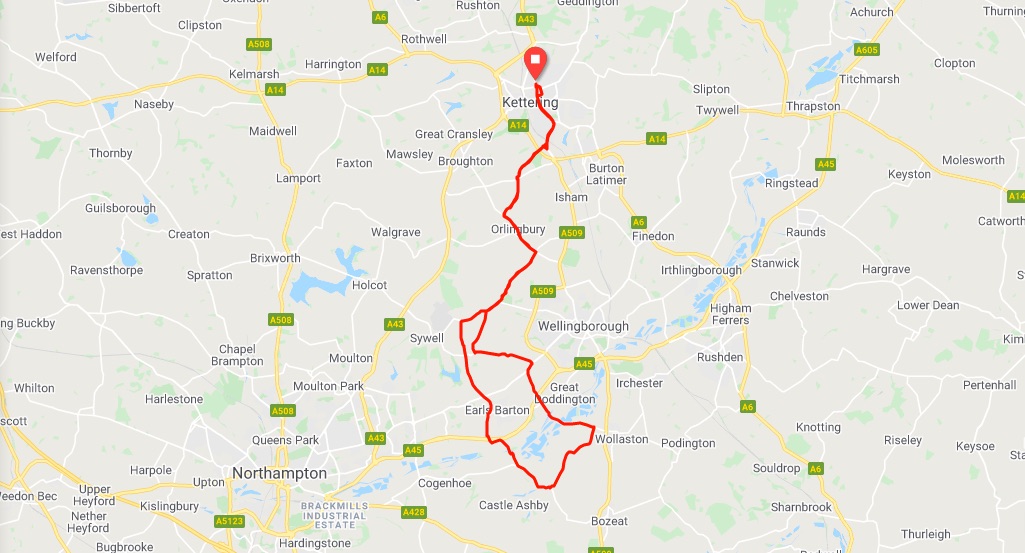 Head south to Sywell to start a clockwise loop to Grendon and back stopping at Earls Barton, before retracing route back to Kettering.
1,536ft of climbing
Starting at Sainsbury's Kettering
Leaving Kettering via London Road, this route will warm up the legs with the stiffer-than-it-looks climb to Pytchley, after which the road undulates through Orlingbury and Little Harrowden before dragging upward in the direction of Sywell. 
A left turn will allow us to visit one side of Mears Ashby, then Wilby before the road opens up to reveal lovely views across the Nene valley.  As we head into Grendon we'll be met by a challenging little climb, after which we can roll serenely to the coffee stop at The Boathouse at White Mills Marina. 
The return leg starts with another leg-warmer, the long climb up past Earls Barton, after which we skirt the West side of Mears Ashby before rejoining the road to Little Harrowden and back the way we came, to Kettering.
Profile:

Coffee stop: The Boathouse Cafe at White Mills Marina, Earls Barton.
TCX is compatible with most modern GPS units. Provides turn by turn directions.
FIT is the best format for turn-by-turn directions on modern Garmin Edge Devices