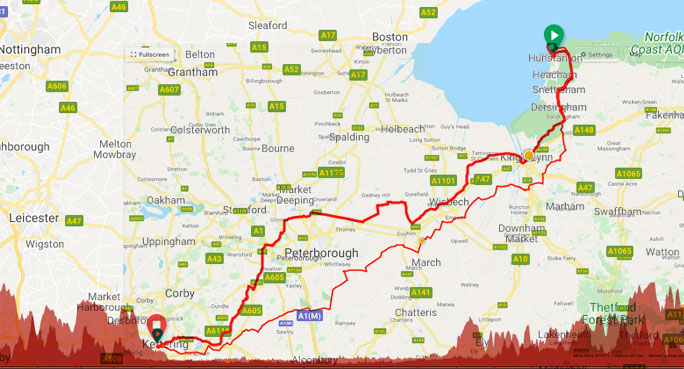 KCC RUN TO THE SUN – 190miles and fish'n'chips
Join Ian Bird on the KCC run to the sun and the seaside. Out to Hunstanton to dip your toes in the sea and have fish n chips, and then all the way back. After the facebook poll on dates, the decision has been made and here's the details.
The Plan:-
Meet and leave from the Sainsbury's bus stop on Rockingham Road at 6:00 am. We will discuss splitting into groups or staying as one before leaving or though it would be nice to keep a no drop policy please. Please arrive earlier and be ready to start off in your assigned group by 6:00am.
We will head out to Grafton crossroads for about 6.30 am where we head off east all the way to the seaside. You can arrange to meet family/ friends there and make it a one way trip or even better join us for the whole journey home as well. There will be stops on the way but it is a good idea to bring some nutrition as it is a long way. 190 miles all in although you could make it 200! It is also a good idea to have lights on your bike as we may be back after dark.
Check out the routes here:
https://ridewithgps.com/routes/35913390
You need to signup to join in this ride, please register by the night before.
Please remember to wear your club jersey.

As an participant in our club ride your information may be shared on the event or our club website, newsletter, social media pages or in emails sent by or on behalf of Kettering cycling club. When used, we may use your name and only shared in relation to your participation in the ride, for example tagged in photos and ride reports.
Please read.
This ride is for all abilities, please ensure you download the route as we will endeavour to keep a not drop policy in the groups, but if you have had enough or wish to split into smaller groups, then let your group leader know. We want all riders to be safe and to get home safely.

Read about the structure here: we-are-changing-the-way-we-structure-our-club-rides