You should always have a plan but you have to realise that you can't always follow it! 
Thursday night's TT was planned to be two laps (18.8 miles) of the Old circuit but essential roadworks between Mawsley and Foxhall made that impossible. In order to have a race other than another 10 we combined two courses and extended the Lamport to Rothwell and back course to run up through Old to finish just before the Mawsley T junction.
It was a nice night for Time Trialling and all of the riders came back happy with their efforts. Well done to Chris Old for being the fastest KCC rider with 32:47 and to Dan Bulley for being the fastest road bike rider of the evening crossing the line in 39:09. Dan started riding TT's this year and has been improving with each passing week; that's great to see!
Of our guest riders Danny Metherell from Velo Elite was quickest on the night with a very respectable 31:20. Unfortunately our other guest, Simon Hunt also from Velo Elite, made a mistake and missed the turn at Old so ended up riding to Walgrave. Fair play to him though because he retraced his tracks and finished his ride with a smile on his face. Kudos also went to Ian Bird who finished his ride and then went off in search of Simon. I'm pleased to say that everybody was reunited at the HQ and we all enjoyed our refreshments.
Thanks to the volunteers
The guys were all full of thanks to the volunteers for giving up their time so that the race could take place. Once again Mick Wood marshalled at the Rothwell roundabout and Dan Bates helped push the riders off and assist with timekeeping. 
Thank you all as it would have been a poorer race without you.

Plans for next week's race
The roadworks are scheduled to still be in place next week so we'll not be able to run the 2 lapper as planned. I'm going to change it to a sprint TT from the War Memorial Flags to Old. (The course description can be found with the following link http://www.ketteringcyclingclub.co.uk/ny14/)
If you haven't ridden a time trial before this course is a great way to introduce yourself to them. You certainly don't need any specialist equipment apart from a bike with working front and rear lights. It's got some flat bits, some nice downhill bits, a few lumps and bumps and then an uphill finish. There's one left turn to make so you can concentrate on pedalling and not on where you are going. All in all it's a great test and I'll be putting out some more information about it over the coming days.
If you'd like to take part or help out at any future Time Trials then please visit the Event diary where you'll get all of the dates and courses.
Results. Use the arrows to sort columns.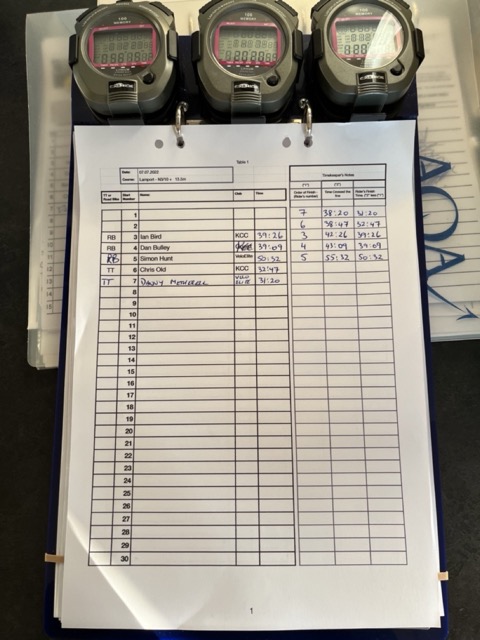 #18-TT-Results-07.07.22
| M/F | Cat | Setup | # | Rider | Finish | MPH | Club | Overall | RB Pos | L Pos | J Pos | miles | h | m | s | |
| --- | --- | --- | --- | --- | --- | --- | --- | --- | --- | --- | --- | --- | --- | --- | --- | --- |
| M | Senior | RB | 3 | Ian Bird | 07/07/2022 | 20.69 | KCC | 3 | 2 | | | 13.6 | 0 | 39 | 26 | |
| M | Senior | RB | 4 | Dan Bulley | 07/07/2022 | 20.84 | KCC | 2 | 1 | | | 13.6 | 0 | 39 | 9 | |
| M | Senior | RB | 5 | Simon Hunt | 07/07/2022 | 16.15 | Velo Elite | | | | | 13.6 | 0 | 50 | 32 | |
| M | Senior | TT | 6 | Chris Old | 07/07/2022 | 24.89 | KCC | 1 | | | | 13.6 | 0 | 32 | 47 | |
| M | Senior | TT | 7 | Danny Metherell | 07/07/2022 | 26.04 | Velo Elite | | | | | 13.6 | 0 | 31 | 20 | |
Generated by wpDataTables