By Andy Parker
18 years ago, former England and Crystal Palace footballer, Geoff Thomas was told he had three months to live because of a very advanced form of leukaemia he was suffering from.  After pioneering treatment by Professor Charlie Craddock in Birmingham, he survived and has dedicated his life to raising money to help other people fight the challenge of blood cancer.
Having met Geoff after having a mechanical issue on my bike near his house five years ago and being inspired by his story, I have now completed my second Tour de France as part of a team of eighteen riders that has raised over £1m for fund crucial clinical trials.
Geoff's autobiography is Riding Through The Storm and, to tell the story of this latest mission, NBC Sports commissioned a documentary you can find now on YouTube called Riding for Survival which documents our journey.  
I am a club social rider; I am a "bloke who rides a bike"; I have done nothing anyone else cannot do; but I am also lucky enough to have been part of an extraordinary team of more and less talented riders to get a sense of what life on the Tour means.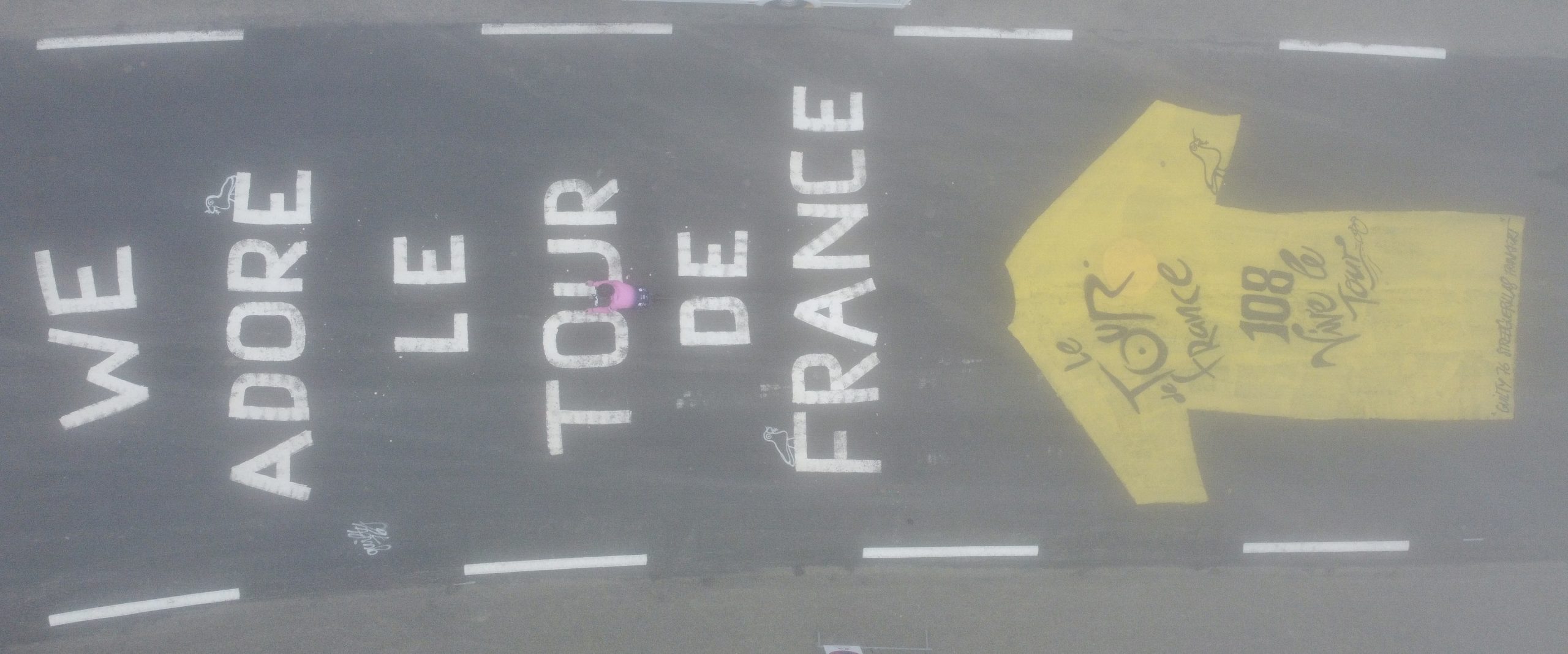 The ups
Reaching our first rest day in the rarefied air of ski resort Tignes followed two days later by twice summitting the windy mountain, Mont Ventoux, felt like the team had broken the back of the tour, described by some of the pros as the toughest they'd experienced.  Many people will have ridden up Mont Ventoux, some from each of the three approaches in one day.  This was Stage 11, at the end of which we'd covered 1,600 km (about 1,000 miles) and climbed 27,356 metres (3 times the elevation of Mount Everest).  Battling the ferocious headwinds past Chalet Reynard on the second ascent, as I neared the total of over 4,700 metres climbed that day, was so hard but also a real high to get to the summit and race down the even steeper descent into Malaucene.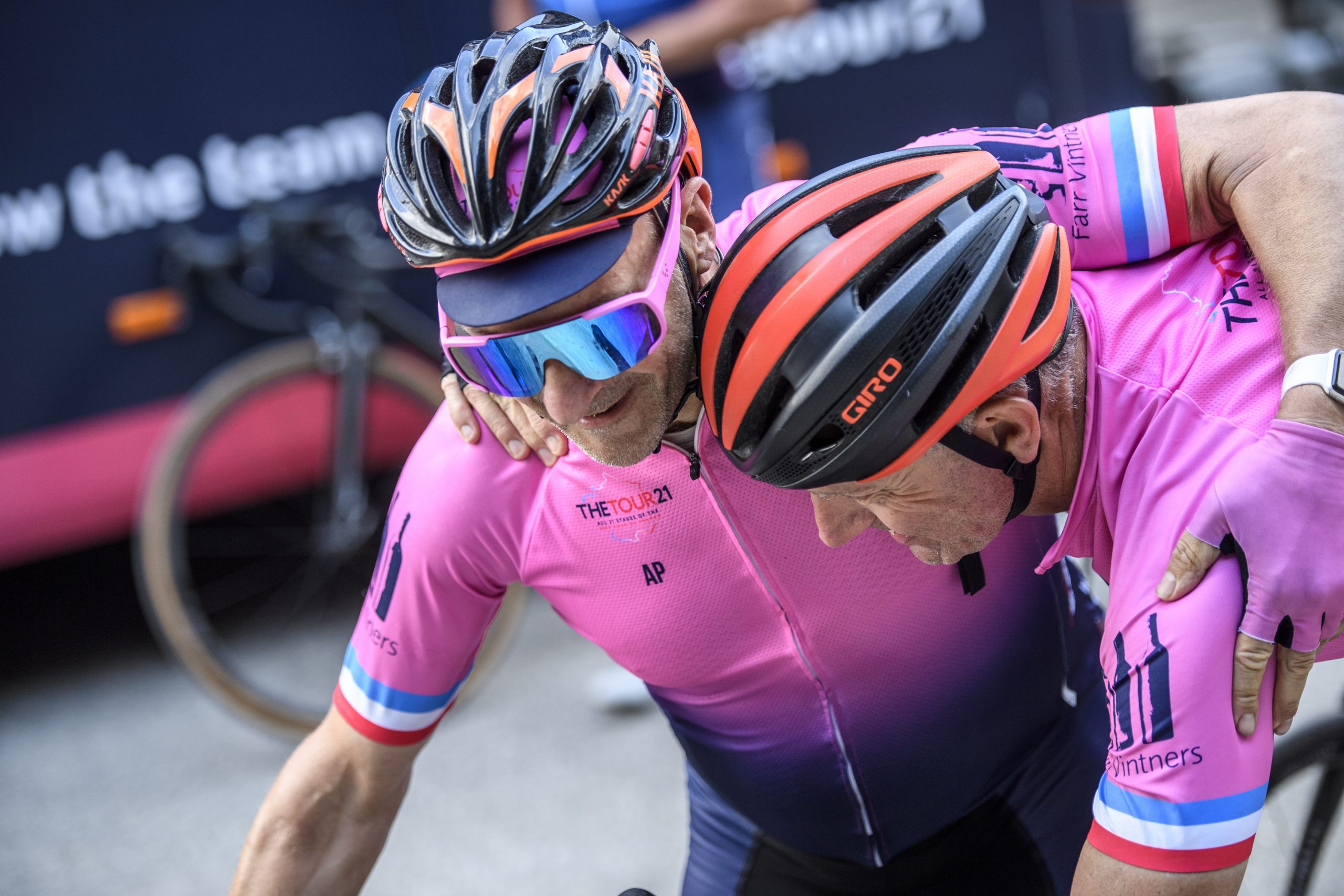 The downs
But the Tour always bites back.  The Pyrenees added their own challenges.  Altitude, the Henri Degrange prize awarded for reaching a 2,406 metre summit this year; low clouds and rain added variety.
Pouring with sweat climbing the Tourmalet, the descent, which should have been glorious, was instead full of braking with rain-soaked bends and dangerous white lines along with the odd stray goat or cow and its unwelcome deposit left on the road.  The rain and speed of descent made it freezingly cold but we knew we had one more ascent for 13 km at 9% left to complete the Col du Luz Ardiden.
The length and breadth of France
I am a Francophile; most of my children's holidays, skiing or summer, have been in France; to travel 3,500 km (nearly 2,200 miles) around this magnificent country with its beaches, mountains, gorges, majestic rivers and chateaux has been a real privilege. It is a country known for its gastronomic excellence and I used to support this view.  Now as a vegetarian, I discovered that the concept of not eating other animals is not one widely appreciated.  But I got through it.
The team
As a rugby player, where the team is everything, the individual sport tag of cycling has often felt strange.  This event proved that Team is everything.  18 riders, 4 ride captains, 2 masseurs, two people making the lunches, two mechanics, the lead car and moto riders and an unbelievable coach driver proved that the power is in the team.  At every stage, we only finished when every rider finished.  For me, it meant riding up the Mûr de Bretagne with the last rider on its first ascent, but having a real dig then next time round; it meant doing through and off with the strongest 8 riders on the 160 mile stage to protect the remaining riders, just to get it done and when I was spent on the 60m climb into Andorra, it meant me tucking into a group of 5 other riders making sure we all got to the end of the stage.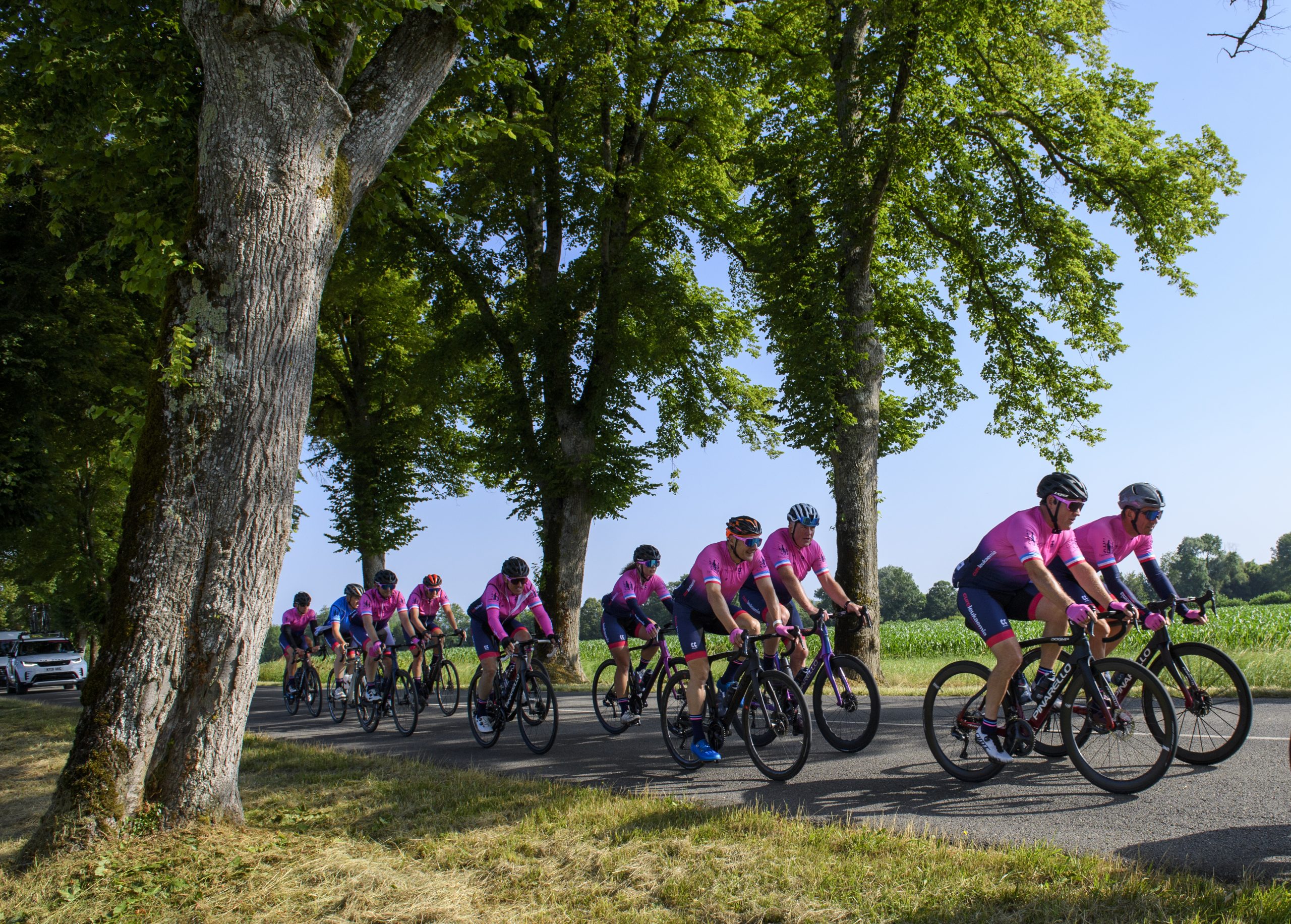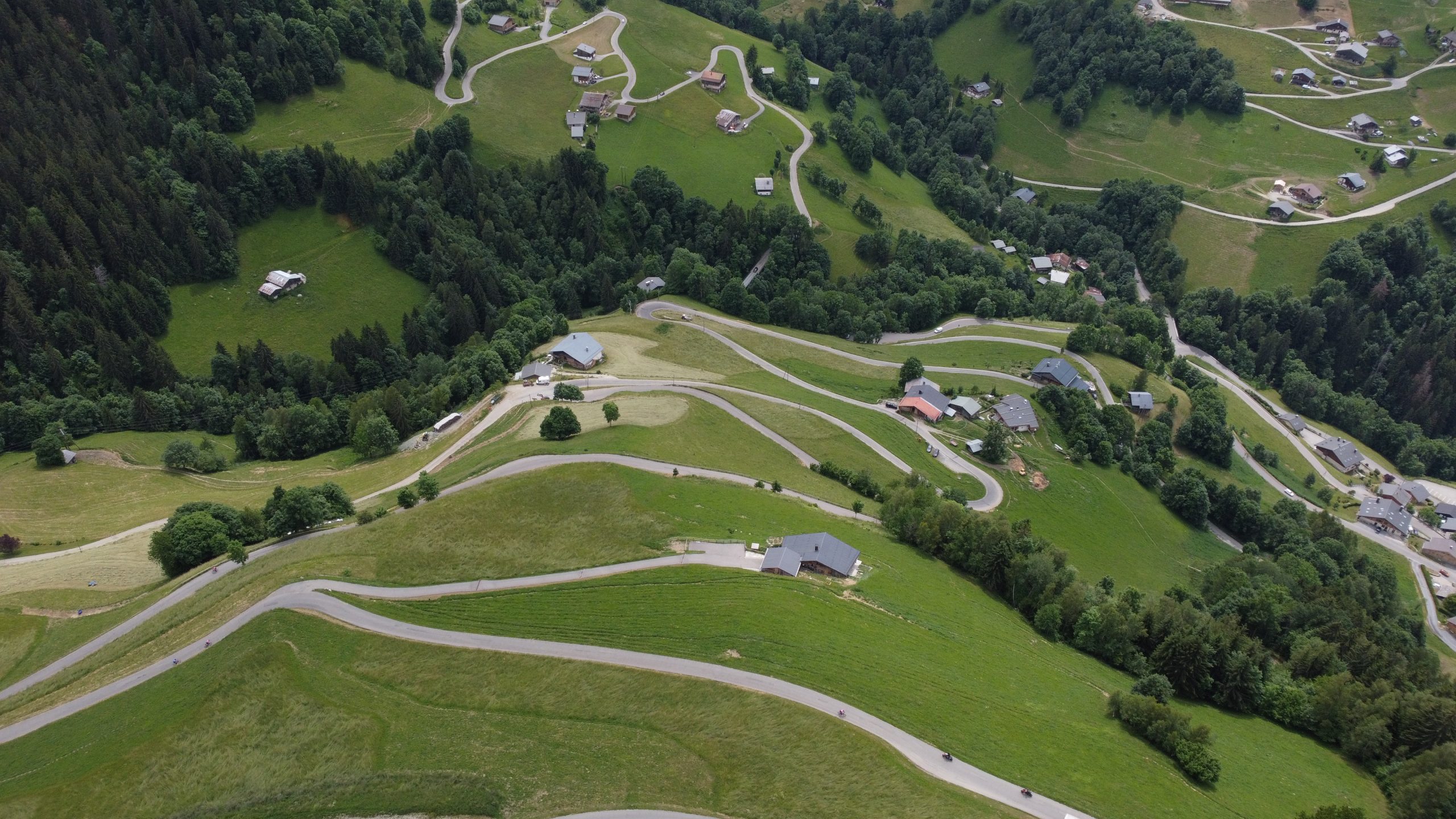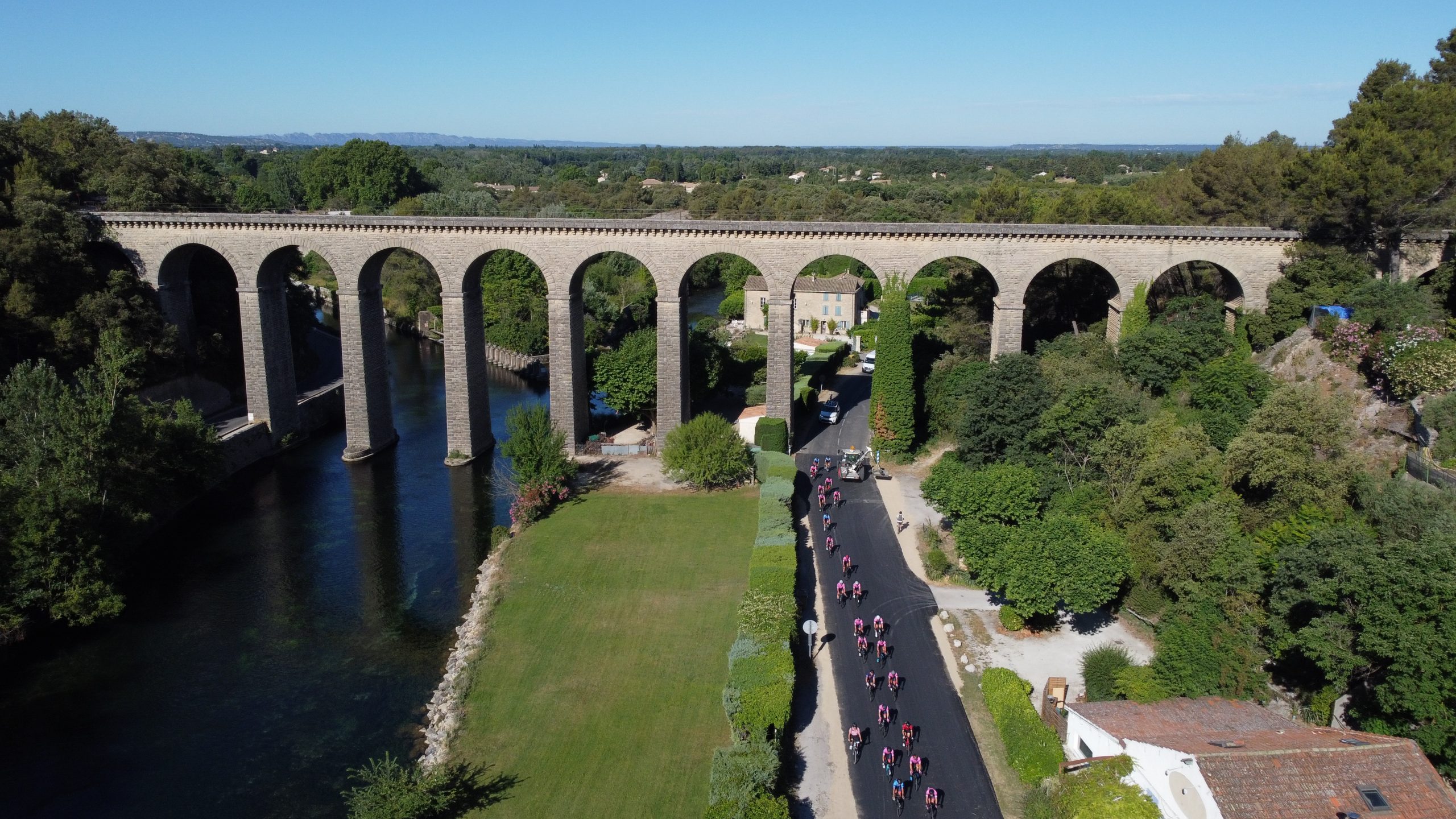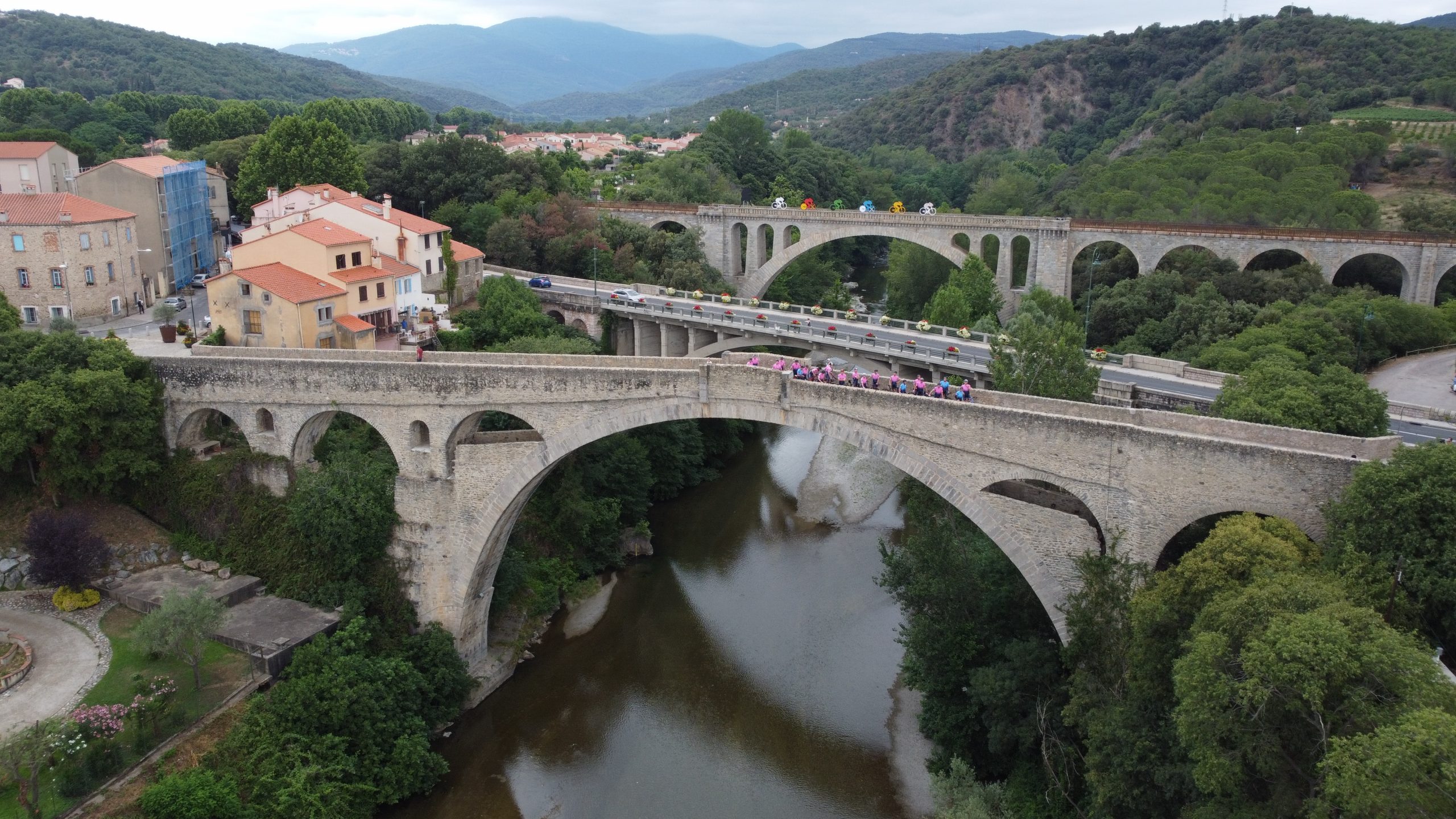 The tedium
Grand tours are must watch TV; the professional riders make everything look easy; we celebrate the immense endeavour of our heroes.
We don't see the relentlessness of this life.
A typical day was:
6:15 am – alarm clock goes off
6:30 am – breakfast
7:30 am – either a) roll-out of the hotel with bikes readied for action, day bags packed into the support cars and luggage bags on the coach or b) get on the coach and drive for up to 2 hours to the depart of the stage
1:00 – pm (or thereabouts) have an alfresco salad and bread lunch, restock drinking bottles and food for the next few hours
5:00 to 7:00 get to the end of the stage (longest in the mountains – Ventoux stage had me riding for 10 and a half hours)
7:00 drive to the next hotel
9:00 get off the coach and straight into dinner
9:45 a quick massage
10:30 bed
Ride; Eat; Sleep – Repeat.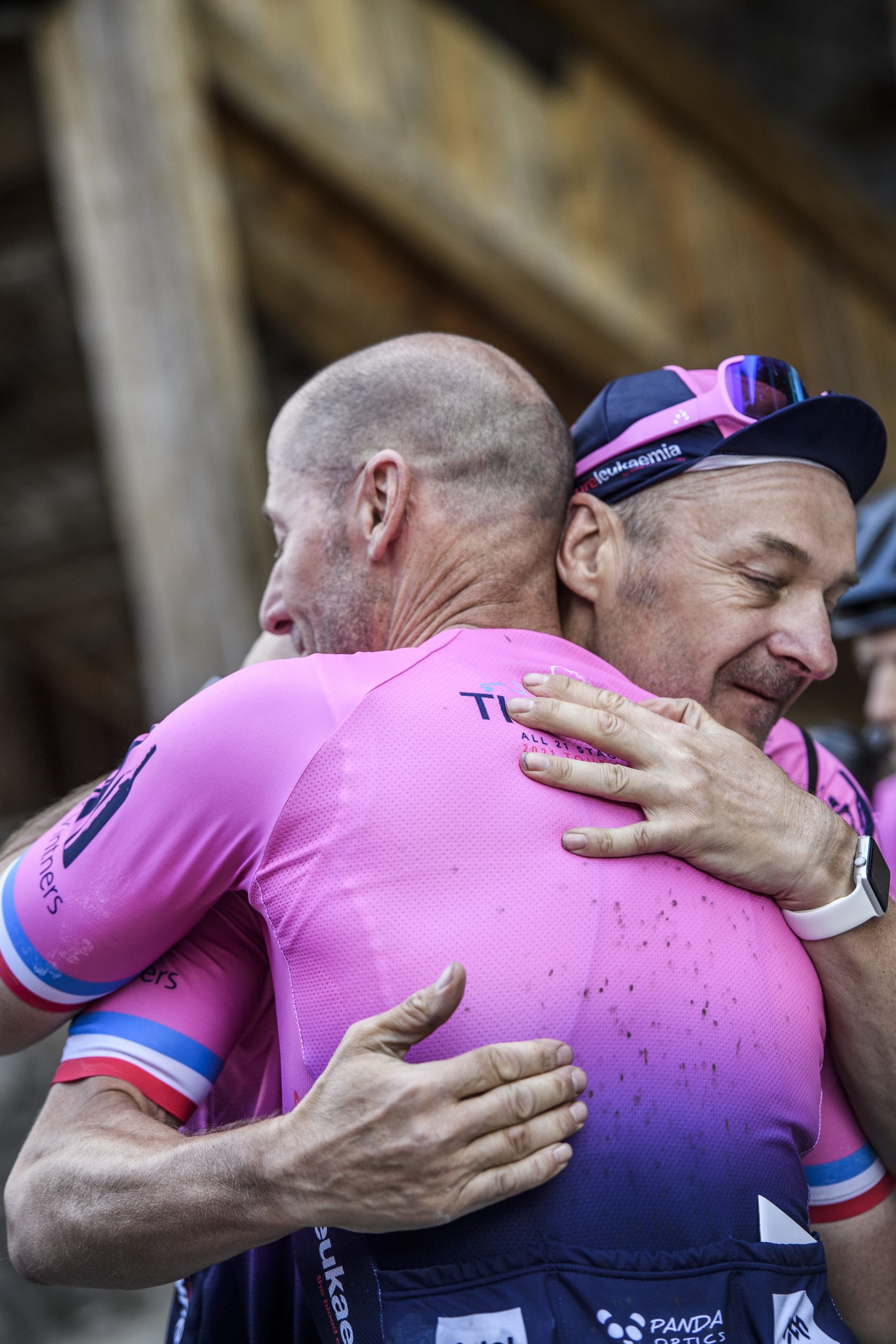 The "Why?" 
I would guess all of us have lost friends or close relatives to cancer of one form or another.  Our challenge was to raise £1m to fund critical clinical trials to combat leukaemia.  On the way into Paris, under the Louvre and onto the Champs Elysées, we had the news that £1m had been reached!  That added to the emotional scenes around the Arc de Triomphe – but it's not the end of the journey.  We are pushing forward to raise more.  Thank you so much everyone who has donated.
On behalf of the club, congratulations on your achievement.