KCC riders Noel Toone, Sue Rust, Bethany Spencer and Maria Gent, traveled over to Cambourne to compete in the ECCA 25mile Championships on the F2A/25 on May 15th.
On arriving at the HQ and having rained heavily overnight, it was damp,  warm and humid… expecting rain as the forecast was grim… but at least we only had a light southerly wind and not the usual gales recently!
The F2A/25. Starting at the end of the Saint Neots Road, Hardwick and immediately left at the roundabout to join the A428 and westbound to the Caxton Gibbet roundabout (the turn) and retrace back to the Hardwick roundabout, to turn, back onto the A428 to do the second lap. On completion at the Hardwick roundabout this time, take the exit to onto the Saint Neots Road back towards Hardwick to the finish.
A wet ride
The rain came when our riders were either on or about to do their second lap, and at times the rain was very heavy at Caxton Gibbet roundabout end and visibility became difficult as visors steamed up for some riders.
New KCC Junior Club Record
Race results gave a podium place for our Bethany who was quickest junior in 1:00:07 but that's not all…
The time also secured Bethany another personal best, and all her hard work training is paying dividends, with her time just seven seconds off breaking the hour for a 25!
A new KCC junior club record was also set, Bethany beats her previous record set in 2018 (1:07:55) by a massive 7 minutes and 48 seconds! What a fantastic day out for Bethany.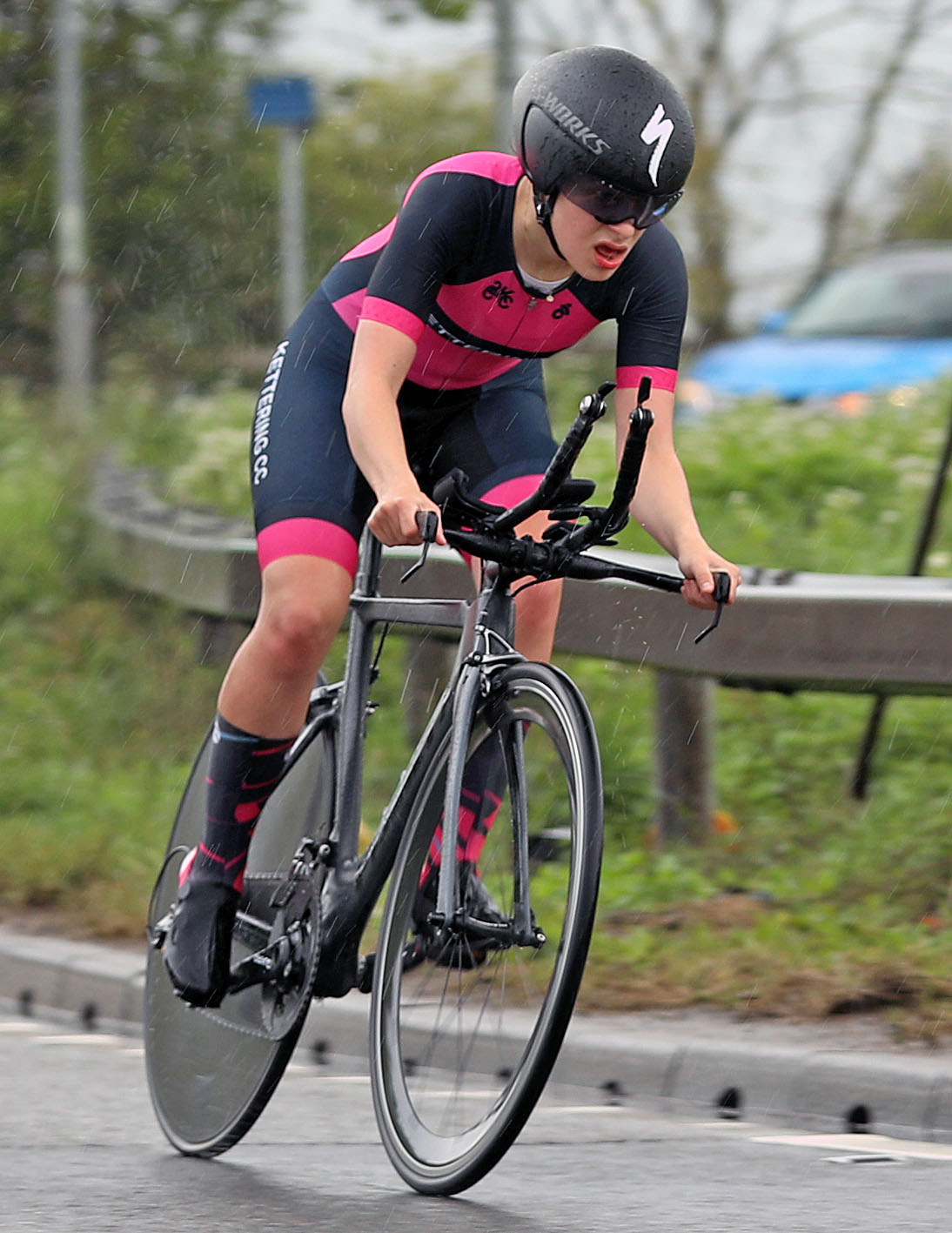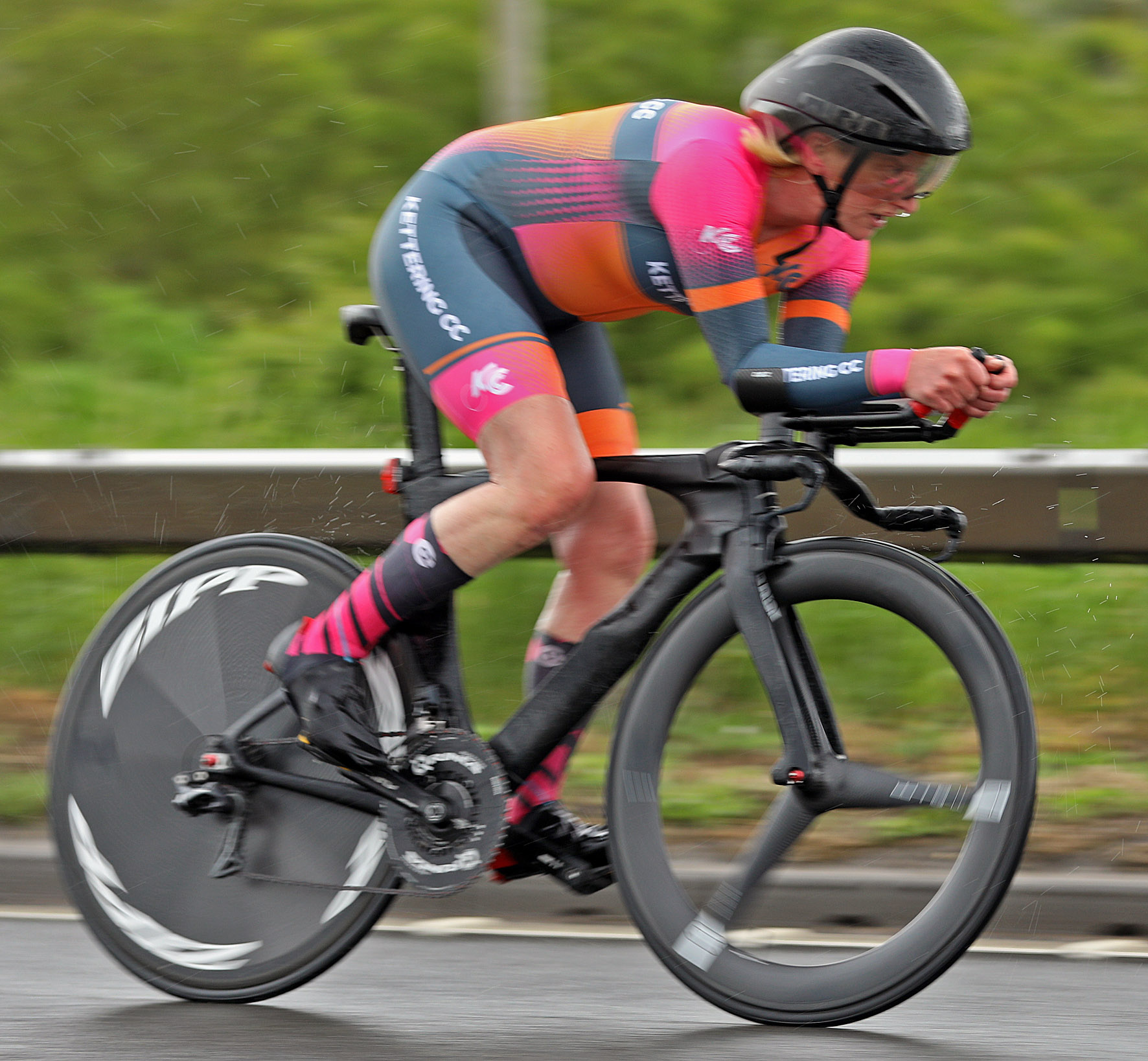 New KCC Ladies Team 25m Club Record
Sue, Bethany and Maria are raising the bar for future ladies as jointly they have smashed the KCC club record they set on the N7/25 in 2018, by a whopping 13 minutes and 7 seconds (3:13:53) with combined times on the F2/25 of 3:00:46.
Ladies results:
Sue Rust 58:04 (25.832mph)
Bethany Spencer 1:00:07 (24.952mph)
Maria Gent 1:02:35 (23.968mph)
A superb day out for KCC.
The day was also good for KCC rider Noel, who also produced a personal best with a cracking ride of 57:35 (26.049mph).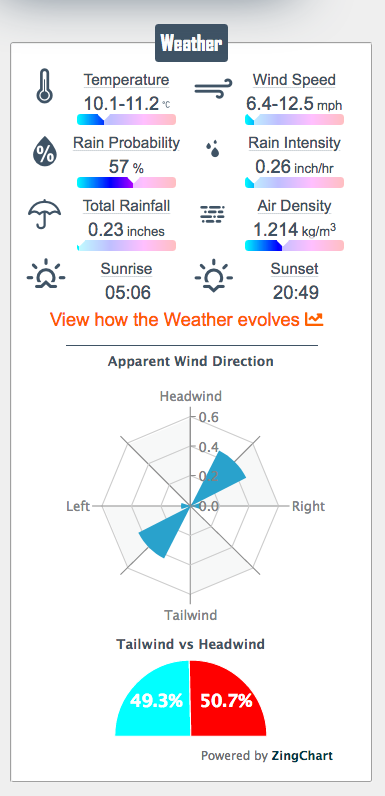 What a great day out for us all, Bethany and Noel both producing personal bests.
For me, Sue, being in the trio of ladies securing a great team time with Maria, Bethany slicing off the massive 13 minutes and 7 seconds off the previous 25 mile Ladies team club record… is mega.
The results Bethany and Maria are getting this year is evidence of the huge improvements these two young riders have made and their commitment to training over the last three years.
Well done Noel, Bethany and Maria.