Well that was a bit of fun 😀
With our planned course not being available we decided to run Thursday's event on the shorter Flags to Old course. I had hoped that this might have encouraged a few more riders to dip their toes into the TT waters but in the end 4 riders signed on for the challenge.
It was great to see Caroline Larsson leading the field off after her request to marshal was politely declined. She set the standard for the evening with a fantastic 8:44 to win both the Ladies' and Road Bike sections. As with all of the riders she was really motoring up the hill to Old and was rightly pleased with her time.
Next home and fastest on the night in 7:52 was Mike Cope. He too was pretty pleased with his effort, a PB for that course by quite a margin. 
Third on the road and runner up overall was Pete Campbell. Pete clearly likes to make things tougher for himself and did a great impression of Pedro Delgado in the 1989 Tour de France Prologue and missed his start time. He was ruing those lost seconds while he recovered at the HQ.
Dan Bates was the last man to leave the starter's gate. Dan has been a stalwart of the club TT's  throughout the season but wanted to show that you can have fun at the TT's regardless of what you ride so he rode his Cycle Cross bike, complete with CX wheels and tyres. His legs were spinning like bees wings on his small gears but he finished in 9:08 which was a great ride and one that once he'd recovered from, he admitted to really enjoying.
Everybody earned their teas and coffees along with a very nice piece of Vegan cake. Because Caroline and Pete had got to ride home they had seconds of cake!
We couldn't run without helpers
Having a short distance and separated start and finish we needed some good help and that was provided by Mick Wood and Roger Reed. Thanks guys.
Next week's TT
Next week's TT is our first on the new N7/10 course based around Earls Barton. It's already proven to be a quick course and the weather forecast is currently looking pretty good so I'm hopeful that there'll be a good field of riders. If you are looking to set a good 10 mile time then this is a course that will certainly help. 
Results. Use the arrows to sort columns.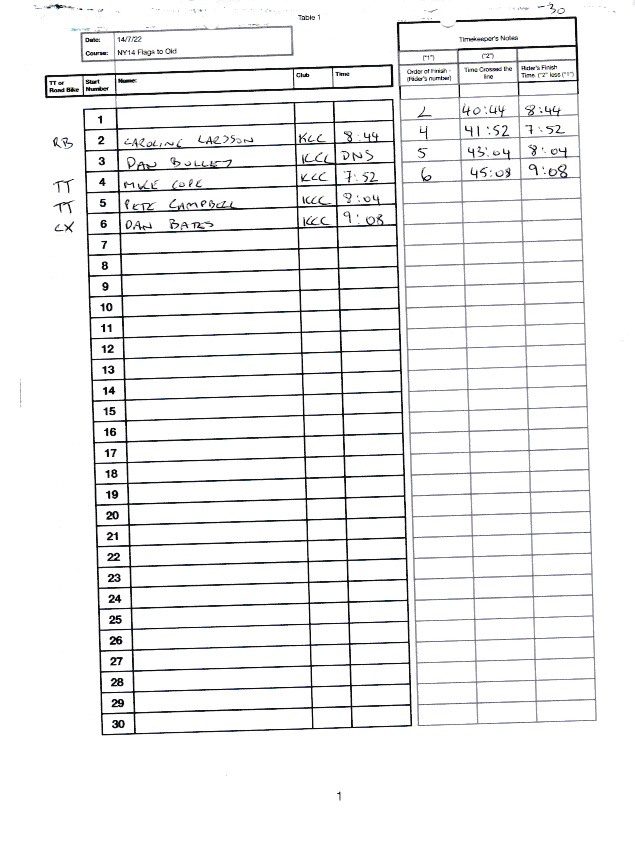 #20-TT-Results-14.07.22
| Date | Course | Description | M/F | Cat | Setup | # | Rider | Finish | MPH | Club | Overall | RB Pos | L Pos | J Pos | miles | h | m | s |
| --- | --- | --- | --- | --- | --- | --- | --- | --- | --- | --- | --- | --- | --- | --- | --- | --- | --- | --- |
| t44756 | NY14 | Flags to Old | F | Senior | RB | 2 | Caroline Larsson | 14/07/2022 | 26.11 | KCC | 3 | 1 | 1 | | 3.8 | 0 | 8 | 44 |
| t44756 | NY14 | Flags to Old | M | Senior | TT | 4 | Mike Cope | 14/07/2022 | 28.98 | KCC | 1 | | | | 3.8 | 0 | 7 | 52 |
| t44756 | NY14 | Flags to Old | M | Senior | TT | 5 | Pete Campbell | 14/07/2022 | 28.26 | KCC | 2 | | | | 3.8 | 0 | 8 | 4 |
| t44756 | NY14 | Flags to Old | M | Senior | RB | 6 | Dan Bates | 14/07/2022 | 24.96 | KCC | 4 | 2 | | | 3.8 | 0 | 9 | 8 |
Generated by wpDataTables