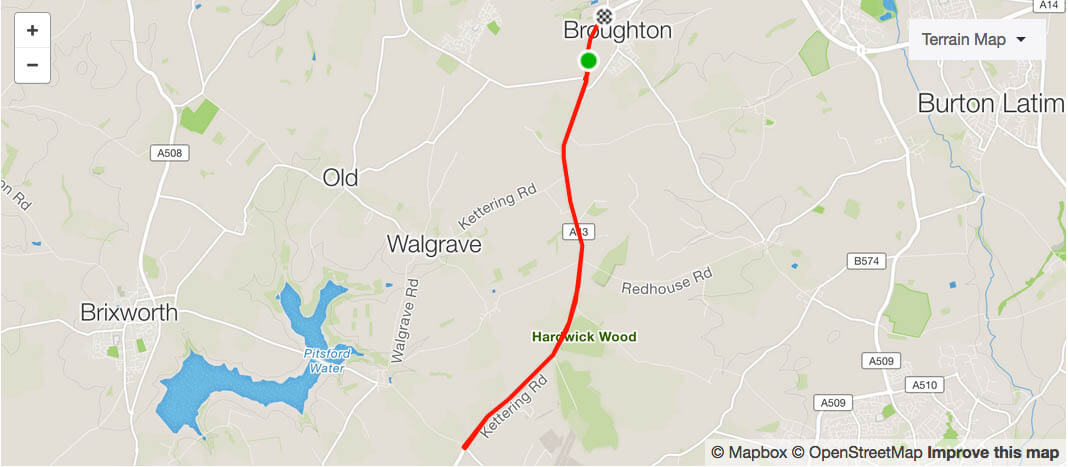 Date
09 Aug 2020
Expired!
Time
Rider sign on before 7:30am
8:00 am
Cost
£3 KCC. £5 Guest.
Covid-19 KCC TT Broughton 10m
Our Broughton 10 is one of our fast TT courses, taking place on the A43 single carriageway main road from Northampton to Kettering. It can be a busy road, so we have an early start for this course.
This is limited to 25 riders, 20 KCC and 5 Guest riders. 
Please read the COVID-19 guidelines before signing up.
Once signed up, please make a BACS payment to the club bank account
(HSBC, sort code 40-26-07, account 21504282, Kettering Cycling Club)
with your name as the reference. No Cash.
Click the button below or click here to sign up:
If you are unsure of anything, please send an email to Jon Thorne, Time Trial Secretary, email timetrial@uwclub.net and we'll get back to you as soon as we can. Include your contact details, mobile and email.
Please note:
This is an opportunity to Race not Socialise
Event limited to 25 riders
Registrations accepted up to end of the day Saturday 7th August.
20 KCC riders.
5 Guest riders
Direct payment to club bank account (see above)
You must not attend the event if you are subject to self isolating restrictions or feel unwell.
No entry on the day
Marshals are needed for this event. If you are able and willing to marshal please sign up using Sign Up Genius with this link Signup Genius – marshalling
You need to read the guidelines!
If you attended our first event, and have your riders number, remember to use it on this race. It may not represent your actual start time, please ensure you check your email from Jon.
HQ, parking and riders sign on sheet.
Meet at the layby south of the Broughton village turning from Kettering and north of the Mawsley roundabout. There is ample parking for vehicles, but please be careful. There is also a layby opposite for any overflow riders. Please ensure you adhere to government guidelines for distancing.
Sign on before 7:30am on the morning.
First rider off 8.00am.
Back red light and helmet are required to ride.
Road, Time Trial (road bikes with tri bars are classed as TT) setups.
If you are accompanying a junior, please let us know when you sign on.
The Broughton TT 10m Course.
Start at the layby where you sign on. Continue over the Mawsley roundabout travelling south to Northampton, continue the the Sywell roundabout 4.8m and then double back and retrace back to the Mawsley roundabout, continue over and past the start, the finish is 0.5m further on and you will see the finishing board and the timekeepers.
Remember to call out your number as you go past the finishing line.
Remember to hand you race number back in after the race.
The race results will be available after all the riders have finished and the timekeepers have returned back where you signed on, Please be careful as you leave the layby.