Members feedback progresses the new kit design
Voting closed Sunday night, and it produced an interesting result.
Appetite for change
There is an appetite for change, only 25% of the votes wished to stay with the current kit, and it was close between all options. However, Design 1 was a popular choice by members and sneaked in as the overall winner, however, members who voted for this design, also expressed via the comment form and direct email to the committee that they liked the colour transistion on design 3, and this was preferable to the panels of colour. So with it being a close vote between design 1 & 3 (only 1 vote between them), applying the likes and merge them, we have an overall winner.
So on that basis and with the need to make a decision at the meeting, we've applied the requests from you our club members that chose to make a contribution. Taking the tweaks back to Endura, we were able to have a new visual to view for the committee Zoom meeting on Tuesday 10th.
I know some of you expressed your views using the comments box and also via a personal email, and a big thank you as it's your club, and we've been able to make some of these requests work with Endura custom design team.
I can't emphasise enough, if you wish to contribute in any way, then please do so, we are making a significant change to the club image and a massive investment of time and energy to move forward with one design to unite the club, and I know we'll not be able to please everyone, but the largest user groups of our kit are the Cyclones and the racing community, so if you wish to get involved in tweaking the design the time is now!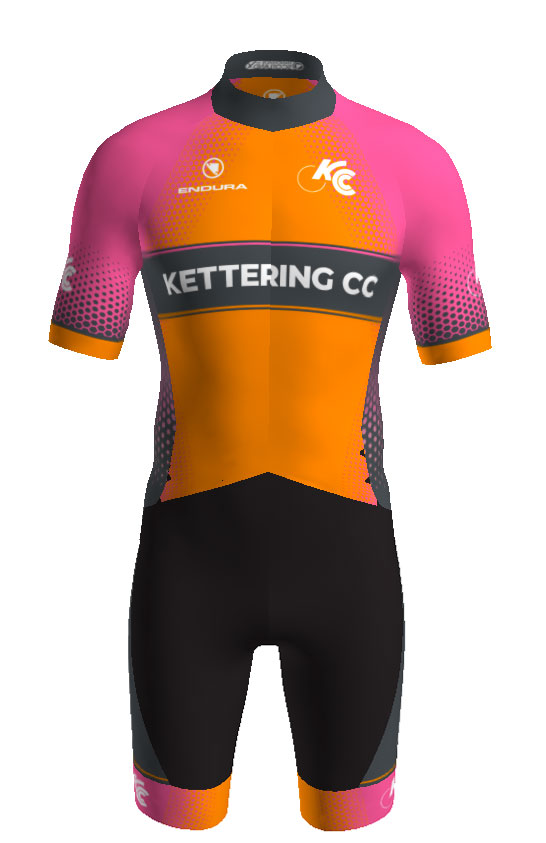 Design to be registered with British Cycling
Once finalised, the club intends to register with British Cycling the new design whilst retaining the option of racing in BC affiliated events in the current kit for a transitionary period of at least the 2021 season. If multiple riders are riding in the same race then they should all wear the same club colours, either new or 'old'. This will ease the transition from old kit to new for all of our members who race in BC events.
As you can do now members riding in Club and Open Time Trials, Sportives etc can wear whatever kit design they want to.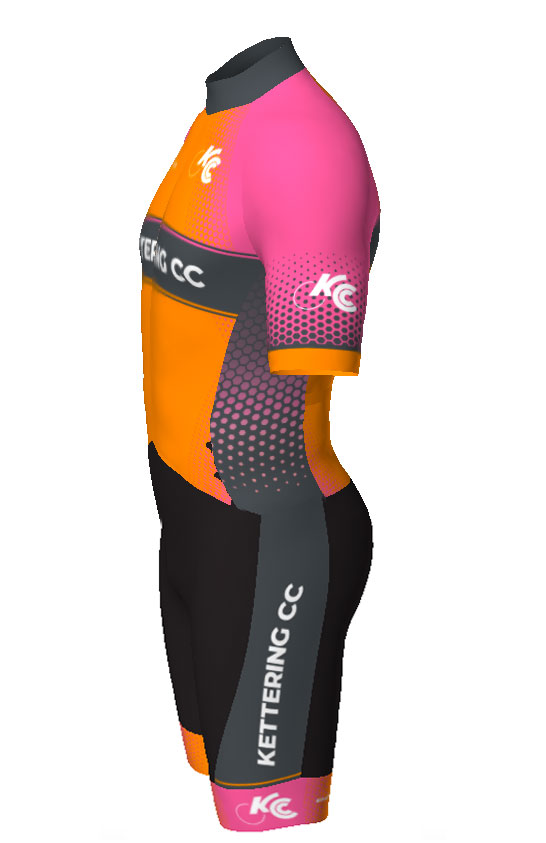 We urge Cyclones to get involved and provide a response, I believe we've not had anything from parents or feedback from the under 16's?
One design for all genders and ages, Seniors and Cyclones

The design has been based on our racing pedigree and desire to be visible with the shoulders and sides retaining the pink for maximum visibility, whilst maintaining our core orange and KCC strip. Being seen and being safe on the roads for leisure and competitive riding. With practical grey and black shorts. There will be one design for all genders.
We have been able to gain the opinion of some of our social club riders. It's so difficult to get people to speak up, so thank you, all feedback is valuable to us.
Sadly some of our social riders responded negatively to a change and there is a desire to wear black. For those who still wish to wear black, we will continue to hold and sell the current stock that includes this colourway, only whilst stocks last, and moving forward, all of the kit will migrate over to the new design and all new orders will be of the one design. I do believe that the new kit will complement and sit well alongside the current black KCC kit that our social group wear and they will continue to wear their current jerseys.
Thank you also for the rest of the committee, making this process as smooth as it can be, especially Marcus, Andy, Roger and Ian, thank you for your input and feedback.
Be seen, be safe
As a driver as well as a cyclist, I am not a fan of wearing black as a cyclist needs to be seen, and as a club we promote the safety and visibility of our club riders.
Morph-festation of design
We have many factors influencing the design and what elements we can flow or wrap around the panels. So, the feedback given to Endura was interpreted into what we can include and having made progress with these in the last 48 hours I am really excited that we were able to get a design combining design 1 and design 3 which was a morph-festation of the likes.
We are excited to share this with you.
Explore the new kit in the 3D visualiser by Endura. Rotate, zoom in click on the orange button:
As before, please note that these are representations and design elements may differ on the final item(s) and it doesn't match up very well in the 3d rendering view, like the front chest panel that wraps around the sides, this will match up.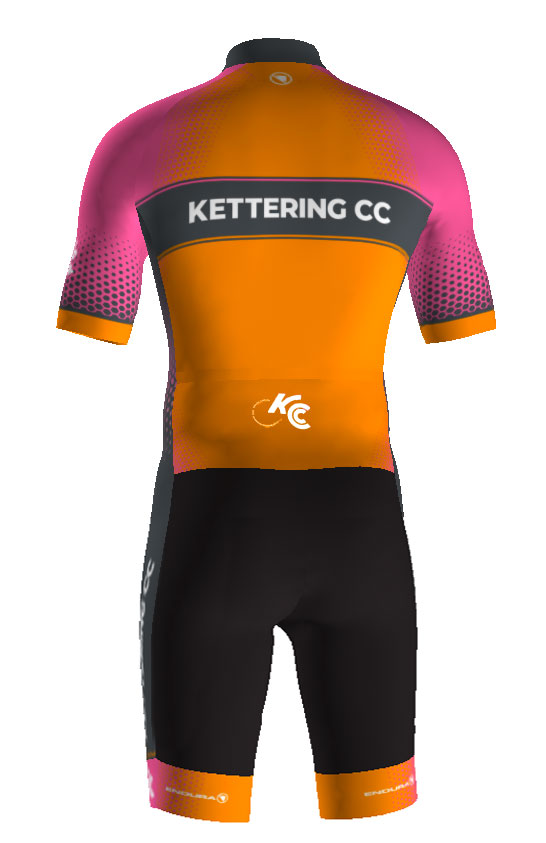 Have a voice

We hope you are as excited as we are and looking forward to seeing the new kit worn at future race meets and on our social rides, uniting the club with the single kit design. It is planned that the kit will be available in the next 6-8 weeks and we will be opening up an ordering window soon, watch the website for items and pricing.
Comments
I think the combination has worked well. Cyclones fb group. AT.
Removal of the Ketteringcc band name across the middle as already have the KCC logo , the new bright colours and the Ketteringcc name on the shorts. Thus would fit better and attract more attention in line with the modern colour logo .
Admin: Hello
I think I take understand what you are asking.
Loose the KETTERING CC grey strip on the chest and there rear back?? and just having the flow of orange?
When you are in a race or aero position however the chest is flatter and it's not as visible, also our consideration has been to retain the "registered" race attire, with British Cycling, so that members do not need to change their Race Kit, we are just awaiting the response with BC if we can have the two kits registered.
Arguably on the L/S jersey we will have the name on the forearm, like our current arm warmers. But in answer to your suggestion, we cannot guarantee that a jersey will be worn with the club shorts hence it will appear in both positions.


It is not in the current mix to loose the KETTRING CC check and rear back strip.

I hope this answers your question.
Are we going to be able to get some samples of kit from Endura so we can order the correct sizes? Not sure how this will work with Covid restrictions though?

Admin: Yes we will have samples of kit for you to try on, and we are just in discussions with Endura if we can wash the items and allowing us to speed up this process. Ian will post the information as soon as we have it.

Pink fade on the leg cuffs looks good and also i think the pink dots on the side are OK(ish), but otherwise i'm still struggling to like pink and orange together. TBH, it's not for me. Please consider changing the pink arms for black.

Admin: Shoulders are pink for visibility in the aero and race positions which is a key element to the design.

Your feedback is great
I love the pink arms, orange body is a must but pink bits are great.
Love the new kit. I do like the suggestion to loose the KETTERING CC grey strip on the chest and rear.

Admin. It has been a decision to keep the KETTERING CC chest and rear strip, partly for the asthetics but also as stated above we recognise the investment members have already made purchasing KCC race attire and we have response from BC that we can have the two kits in use, so members do not need to change their Race Kit, the proviso is that any team, must wear all of one design, not a mix of both.