Sometimes the results aren't the most important thing
All of the riders and volunteers started the evening by having a minute's reflection for Richard Daniells who was tragically killed earlier in the week. Richard had devoted a great deal of his time to the local and national cycling communities. He was an ever present at local open Time Trials often working as a Time Keeper and always doing an excellent job. He was a key part of various committees that promoted Time Trialling and it's fair to say that a lot of the events that have taken place down the years would not have been possible or would have not been as succesful without him. He was a really nice man and he will be missed by us all.
On the evening Mark Weathersby showed his fitness ahead of his international triathlon at the end of the month in Canada by coming home first on his road bike in 24:16.
Fresh (or perhaps not) from a very succesful Wednesday's road racing our Junior riders Lucas and Jake were closely matched in their category with Lucas just coming out on top with a time of 27:21.
Overall the fastest rider on the night was a regular guest, Jonathan Allen coming home in 23:43. 
Thanks to the volunteers
As ever we could not run the events without the volunteers and all of the riders are grateful for their input into making the event happen. Jon Thorne dusted off his old timekeeping trousers and did a great job ably assisted by Liz Bird. Thanks too to Mick Wood and Mike Lewendon who again marshalled the roundabout.
Thank you all as it would have been a poorer race without you.

If you'd like to take part or help out at any future Time Trials then please visit the Event diary where you'll get all of the dates and courses.
Results. Use the arrows to sort columns.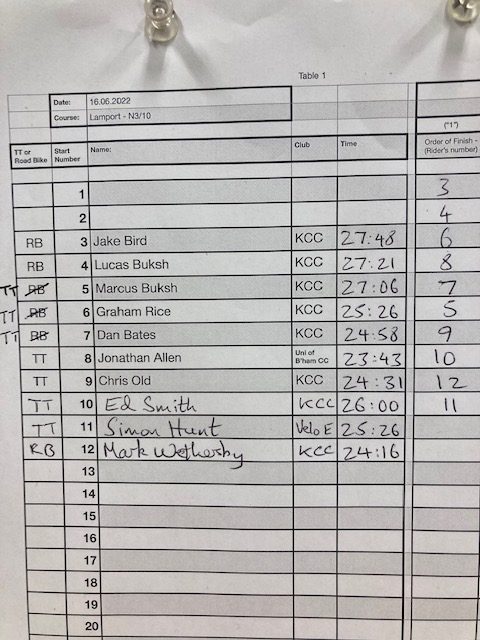 #15-TT-Results-16.06.22
| M/F | Cat | Setup | # | Rider | Finish | MPH | Club | Overall | RB Pos | L Pos | J Pos | miles | h | m | s |
| --- | --- | --- | --- | --- | --- | --- | --- | --- | --- | --- | --- | --- | --- | --- | --- |
| M | Junior | RB | 3 | Jake Bird | | 2.158,00 | KCC | 8 | 3 | | 2 | 10 | 0 | 27 | 48 |
| M | Junior | RB | 4 | Lucas Buksh | | 2.194,00 | KCC | 7 | 2 | | 1 | 10 | 0 | 27 | 21 |
| M | Senior | TT | 5 | Marcus Buksh | | 2.214,00 | KCC | 6 | | | | 10 | 0 | 27 | 6 |
| M | Senior | TT | 6 | Graham Rice | | 2.359,00 | KCC | 4 | | | | 10 | 0 | 25 | 26 |
| M | Senior | TT | 7 | Dan Bates | | 2.403,00 | KCC | 3 | | | | 10 | 0 | 24 | 58 |
| M | Senior | TT | 8 | Jonathan Allen | | 2.530,00 | Uni of B'ham | | | | | 10 | 0 | 23 | 43 |
| M | Senior | TT | 9 | Chris Old | | 2.447,00 | KCC | 2 | | | | 10 | 0 | 24 | 31 |
| M | Senior | TT | 10 | Eddie Smith | | 2.308,00 | KCC | 5 | | | | 10 | 0 | 26 | 0 |
| M | Senior | TT | 11 | Simon Hunt | | 2.359,00 | Velo Elite | | | | | 10 | 0 | 25 | 26 |
| M | Senior | RB | 12 | Mark Weathersby | | 2.473,00 | KCC | 1 | 1 | | | 10 | 0 | 24 | 16 |
Generated by wpDataTables